I help families improve their emotional, mental, physical and spiritual well-being so that they can spend more time having fun and less time stressing!
Do you want to feel more connected to your children? Do you want to make sure they have the tools and practices they need to look after their well-being, not just not but in the future too.
You want to help them stress less, find calm more easily, and practice self-care. You also value your time together and want to have more fun and time slowing down together.
You want to feel more present and be able to tap into a more playful side of yourself.

Benefits of Working with a Family Yoga Teacher
Working with a family yoga teacher on a one-to-one basis can be an incredibly beneficial experience for both parents and children. By having a personalized approach, the teacher can tailor the practice to suit the individual needs and goals of the family. This means that the practice can be adapted to accommodate any physical limitations, emotional concerns, or developmental stages of the children.
Additionally, one-to-one sessions allow for a deeper level of connection between the teacher and the family. This can help to foster a sense of trust and comfort, which is particularly important when working with children who may feel hesitant or anxious about trying something new. Moreover, the teacher can provide personalized guidance and support to each family member, ensuring that everyone feels seen and heard.
By practicing together as a family, parents and children can strengthen their bond and create lasting memories. Yoga can be a wonderful way to cultivate mindfulness, reduce stress, and improve overall well-being. It can also provide an opportunity for families to disconnect from technology and other distractions, and simply be present with one another.
Overall, working with a family yoga teacher on a one-to-one basis can be a transformative experience for families looking to deepen their practice and strengthen their connection. With personalized attention and support, families can develop a shared understanding and appreciation for the benefits of yoga in their daily lives.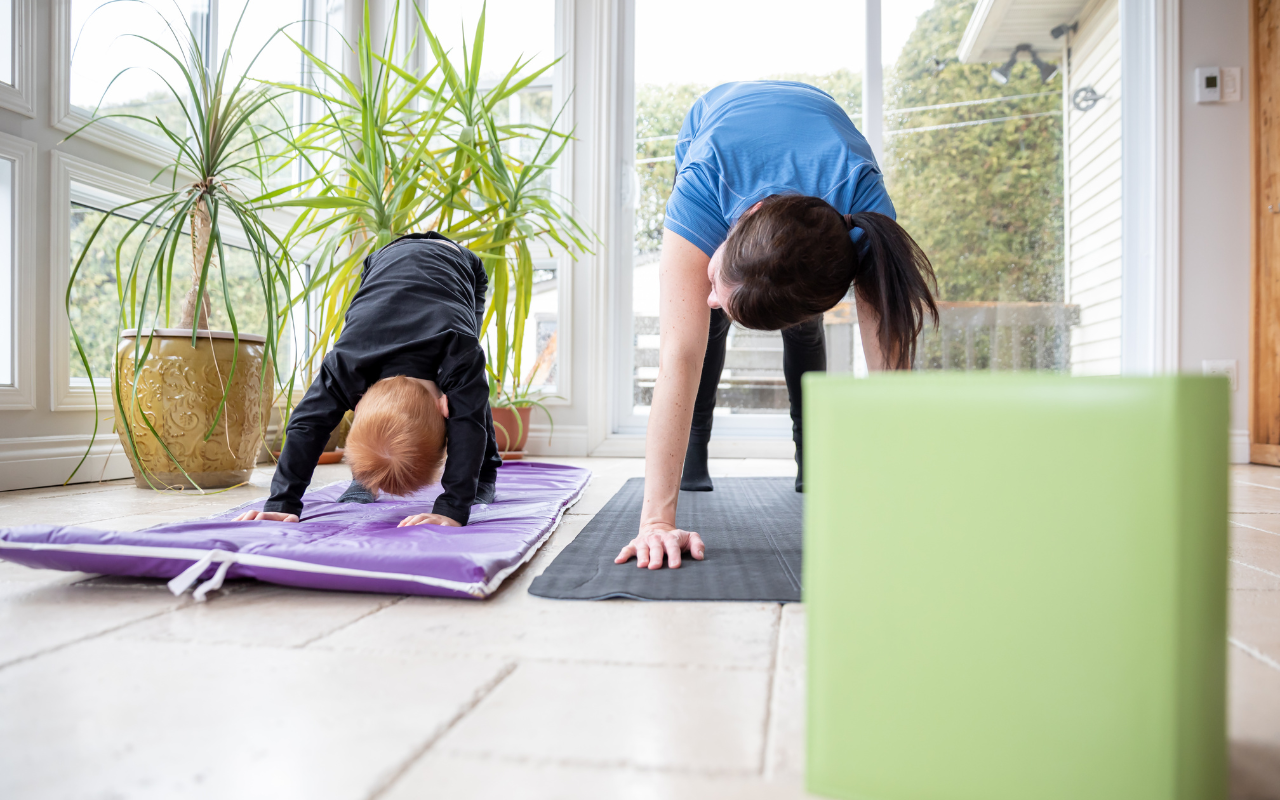 Outline of the 11 weeks working together
Week One
A. Get to know each other! I want us to get the most out of this time together. Tell me about what themes you enjoy and would like to see.
B. Goals and expectations for the course
C. Introduction to breathing exercises
This week will help to set a clear path for your family's yoga journey, 

Week Two
A. Introduction to sun salutations
B. Building strength and flexibility
C. Mindfulness Practice
This week your family will learn sun salutations, which are a series of poses that can improve strength and flexibility. We will be practicing through a playful theme that your child will enjoy.
Week Three
A. Focus / Drishti
B. Developing balance and coordination
C. Breathing practice
Drishti is the focus point of your gaze. It helps you in all poses, but I love to teach this concept using balancing poses. Drishti can be both focusing our gaze outward to help us in poses, but also focusing inward to help us focus our mind.
Week Four
A. Introduction to seated postures
B. Working with props
C. Exploring the power of relaxation
Your family will learn seated postures and how to work with props. You will also explore the power of relaxation and how it can benefit your families overall health.
Week Five
A. Introduction to challenging poses.
B. Building confidence
C. Deepening awareness of the body
This week we will play around with some suitable poses that bring a bit of a challenge! Practicing these poses can build confidence and deepen awareness of the body.
Week Six
A. Partner Pose Practice
B. Building Trust and Communication
C. Relaxing together
In this lesson, you will focus on building trust and communication with each other. You will practice active listening, non-verbal communication, and learn how to give and receive feedback.
Week Seven
A. Understanding what an inversion is and why they are beneficial
B. Practicing simple inversions
C. Learning how to use inversions as a tool for stress relief and relaxation
This week you will be introduced to inversions which will help your child develop a safe and confident inversion practice while also cultivating mindfulness and awareness in their yoga practice.
Week Eight
A. Introduction to restorative poses
B. Nurturing self-care
C. Connecting with the inner self
This week will introduce your family to restorative poses, which can nurture self-care and help connect with the inner self.

Week Nine
A. Introduction to meditation
B. Developing awareness and focus
C. Exploring stillness
This week will focus on meditation and developing awareness and focus. Your family will explore stillness and its benefits.
Week Ten
A. Reflection and review
B. Setting goals for the future
C. Creating a plan for continued practice
The tenth week will be a time for reflection and review. Your Family will set goals for the future and create a plan for continued practice beyond the course.
Week Eleven - Conclusion
A. Recap of the course
B. Final thoughts and reflections
Overall, the coaching calls in this program offer a unique opportunity for families to bond and care for their well-being together. By learning breathing exercises, postures, and relaxation techniques, families can reduce stress, increase relaxation, and improve their overall health and wellbeing. I'll be here to support you ever step of the way.

Thanks for submitting your information! Please continue with the checkout process.
Frequently Asked Questions
What is the time commitment?
Sessions are 45 minutes to an hour. It is recommended to have one session per week but we can schedule these calls to suit your schedule. This could be one every 2 weeks or even just one per month.

Can I get a refund if I'm unhappy with my purchase?
If you are unsatisfied with your coaching and want to cancel, let me know at any time during the first call or within 48 hours after the first call. A refund will be given in full for first time clients. After that, full refunds can not be guaranteed but part refunds may be able to be given at coaches discretion.
How do I schedule my appointment?
Upon purchasing coaching, you'll receive further instructions on how to book a time for your appointment. If you would like to get a glimpse of what times are available take a look here.
Is there a time limit to use these sessions?
It is recommended to have one session per week, but you will be able to schedule these sessions over the span of 12 months from purchase.